Bovine tissue is the basis for hundreds of medical and cosmetic products currently on the market and being researched and developed. We supply various tissues including, bones, veins, cornia, eyes, brain material, joints, organs, glands, skin, blood, tendons, fetal, reproductive, and digestive materials, and many more.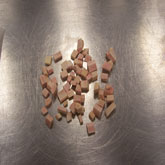 All of our products are custom packaged for each customer and can be processed in our new manufacturing facility. We offer some options to soak, slice, particle size, and freeze dry our products. We also ship fresh to local areas and overnight to others.
Please contact us if you have any questions.